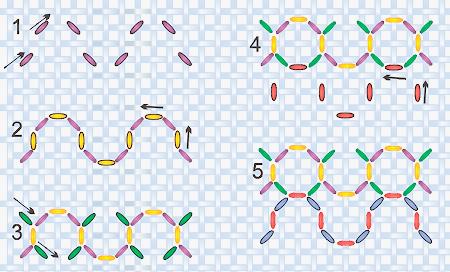 This pattern is completed in a number of journeys. If you haven't worked it before it may be an idea to practice on a spare piece of fabric first. Use a single strand of thread to work the pattern.
Arrows are given to get you started on each row. Each stitch is taken over 1 Aida block or 2 evenweave threads. Start by taking the diagonal stitches shown in purple in stage 1. Journey back along the row by following the horizontal and vertical yellow stitches in stage 2. Diagonal again in stage 3, following the green stitches.
In stage four the first "row" of octagons is completed at the same time as laying the framework for the second row. Stage 5 is exactly the same as the first stage. The pattern is then continued by following the stages above until completed.