Blackwork Stage 2
- use shading techniques for added depth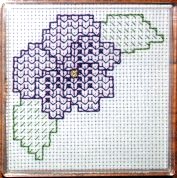 There are a number of ways to add depth and dimension to a blackwork design. We will try one in this online class.
You will need:
stranded cotton in purple and green (or colours of your choice), a size 24 tapestry needle and a square of Aida 14 fabric
Step 1. Outlines
Find the centre of your fabric by folding it in half both ways. The centre of the chart is marked by arrows. Using 2 strands of purple work the outline of the centre petal in double running stitch as in lesson 1. Follow either the red or black lines around the petal and then fill in the missing ones on the return journey.
Work the outlines of the adjoining two petals in a similar way. Coloured guidelines have been omitted on this occasion to accustom you to "seeing" alternate stitches for yourself. Do not stitch any of the leaf outlines at this stage as they will be worked in green.
Step 2. Base pattern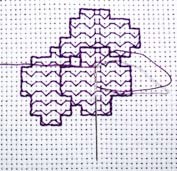 Next using a single strand of purple work the base of the fill pattern by following the purple and green guidelines on the chart. Ignore the vertical lines as we will do those in a moment.
When the horizontal pattern rows are in place work the missing vertical stitches in simple running stitch working in rows up and down following the yellow lines (as shown in photograph, left). Although still neat on the reverse side the design will no longer be fully reversible at this stage
Step 3. Adding the shading
To finish the petals we will add shading to the darkest areas. These are shown on your second chart, which is probably the only one you would find in a commercially purchased design. To add the shading you will make a cross stitch where shown, finishing off with a horizontal stitch to "box off" the cross.
The centre of the pansy can be worked in cross stitch, French knots or beads. The leaves are filled with a simple running stitch pattern, worked diagonally in gold metallic or green thread.
If you have enjoyed this you will love the blackwork pears which is a larger shaded blackwork design available for free on our sister site.
X-Calibre Designs
created by Carol Leather
last modified: Nov 2006

© Carol Leather, X-Calibre Designs