4. Larger roof section
For the larger roof section we are going to break all the rules! A different effect can be gained by crossing each stitch but then jumping to a different position within the design area and working the next stitch. This method of working does not lend itself to neat backs! Perhaps you could reassure yourself by remembering that many of the historic samplers that have survived the years were worked in this manner. In fact the mass of threads on the back of the work are, in some cases, what has kept the piece from disintegrating!
Results: Using this method you have the possibility of placing the colour changes just where you want them. For example the darker stitches can be placed in shadowed areas or dotted around to add texture.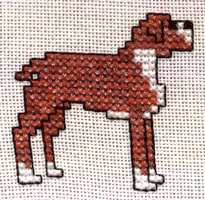 Uses: This technique has great potential, but is not to everyone's taste! We have given our boxer dog a brindle coat by dotting the different shades here, there and everywhere! Or how about using a earthy toned mixture why not try grouping stitches of similar colours together on a wall to give the effect of bricks. Lighter areas of blue mixes could be used for ripples on water, or the reflection of sunlight on the sea. Experiment and have fun!
5. A further method
Although we have run out of areas on our house there is another method of using space dyed fibres for cross stitch which you may like to experiment with.
To give a subtle shading to an area you can use 1 strand of space dyed cotton with one of normal stranded cotton. Pick either one of the shades within the variegated thread or a complimentary colour. This can take the "flatness" out of an area of colour, adding just a hint of texture.
Using overdyed threads in other needlework techniques
Blackwork too can make use of space dyed threads. However, better results may be had by using backstitch rather than holbein (double running stitch). If you use the latter method you may find that the colour has changed by the time you work the return journey giving a spotty effect. If you use backstitch the outlines gradually change colour or tone across an area which is usually more attractive.
Hardanger can be really pretty worked in these fibres. Some people use the space dyed for the kloster (satin stitch) blocks and a plain coloured thread for the needleweaving and fancy work.
Needlepoint is ideal for using space dyed fibres of all kinds, thick, thin, shiny, matt etc.
© X-Calibre Designs
created by Carol Leather
last modified: Nov 2004