Blackwork Stage 1 -

your beginners guide to blackwork!
As an introduction to this needlework technique, I have designed a simple blackwork flower design that will measure approx. 2.75" x 2.75", an ideal size for mounting into a coaster or for making into a pincushion. You will find more free blackwork patterns and lessons on our sister site www.needlework-tips-and-techniques.com
You will need:
stranded cotton (it doesn't have to be black),
a size 24 tapestry needle
Aida 14 fabric.
Step 1. Outlines
Start by printing the chart for our beginners guide to blackwork. The outline will be worked in double running stitch using 2 strands of thread. The flower is made up of two different shaped petals and one of each has been outlined on the chart with red dashed lines. These show the first journey of running stitches to outline the petal. When you reach the starting point again, reverse direction and go back to fill in the gaps. This will make the back of your work look almost the same as the front (apart from where you fasten your thread on and off). Work the outlines of the other petals in the same manner.
Step 2. Zigzag fill pattern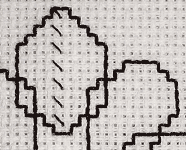 Using a single strand of cotton work fill pattern 1 in the vertical and horizontal petals. We will use double running stitch as shown in the photograph (left). Start in the centre of a petal and work each zigzag row in 2 stages leaving gaps on the outward journey (red stitches on top petal on your chart) and filling them in on your return.
Step 3. Chain link fill pattern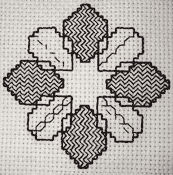 Next we will move on to the diagonal petals. Working clockwise, the photograph (left) shows the four stages in completing a row of this pattern. Starting with the petal shown in the top left, work the first journey missing gaps as before. (These stitches are coloured red on your chart in the corresponding petal.) Fill in the gaps on your return journey as in the top right petal in the photograph. Next work the red stitches in the bottom right petal on your chart to begin the third stage of this pattern. Again fill in the gaps to complete the row on the way back. Note it takes four journeys back and forth to complete one row of this pattern compared to the two we needed for pattern 1.
© Carol Leather, X-Calibre Designs