Letís continue to learn how to blackwork. Click here to go to part 1 of our beginners guide to blackwork.
Pattern Variations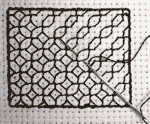 Although we are using just one single row of this pattern it can be worked in a variety of ways. The photograph shows one variation. This may look more complex but just remember to break the area down into rows and then it is no more difficult that what you have achieved in this class.
Work evenly spaced rows, side-by-side, then work running stitches in the opposing direction to form a pattern that looks completely different!
I hope this lesson has helped you learn how to blackwork. Blackwork patterns are easy to adapt. Deleting or adding extra stitches to a fill can alter it totally. The more stitches you add, and the closer together they are, the darker the blackwork pattern will appear. Study any fill pattern for a few moments to work out the best method to use when stitching it. There are no rules; each person will probably tackle it differently. Remember you donít have to use double running stitch every time (in fact some patterns can only be worked in backstitch).
Let your imagination run wild and enjoy! Blackwork is fun, easy and quick to stitch. Donít you agree?
X-Calibre Designs
created by Carol Leather
last modified: Jan 2007